Considering a digital transformation journey?
In a 2019 US survey of medium to large enterprise CEO's and Executives, the number one business risk identified by all who were surveyed was digital transformation and the number one business priority was to execute a digital transformation program for each of their businesses. In a year where $1.3 trillion was spent on digital transformation programs, and estimated $900 million was wasted. Find out how to avoid the key pitfalls in this whitepaper.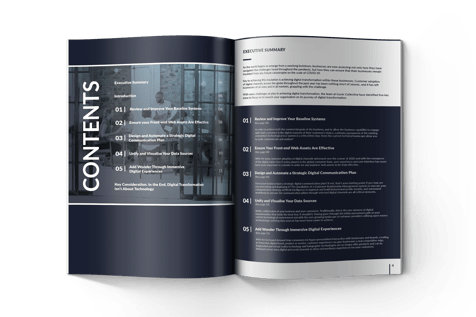 Your company is not exempt from this paradigm shift.
As the world begins to emerge from a yearlong lockdown, businesses
are now assessing not only how they have navigated the challenges
faced throughout the pandemic, but how they can ensure that their
businesses remain insulated from any future catastrophe on the scale of COVID-19. Key to achieving this insulation is achieving digital transformation within these businesses.
Customer adoption of digital channels across the globe throughout the past year has been nothing short of seismic, and it has left businesses of all sizes and in all markets, grappling with the challenge. With many challenges at play in achieving digital transformation, the team at Iconic Collective have identified five key areas to focus your business on to launch your organisation on its journey of digital transformation.
Learn the one key insight that can define the success or failure of your digital transformation program.
While this whitepaper identifies the five key considerations for businesses and their leaders to assist them in achieving the digital transformation goals for their organisations; even more importantly, this paper identifies the one consistent element that will dictate your organisation's success or failure in achieving true digital transformation. The pages within this paper will lead you through the critical elements to consider when engaging in digital transformation and what to plan deeply for to ensure the success of your efforts.